Publisher
Jaguar Inc.
Editor
Gordon McCormick
Contributing Editor

Publication Manager
Steven Desrochers
Account Executive
Joanne Mayoff
Production Assistant
Danielle Bernier
Art Designer
Linda Fleury
(MIS) Management Information System
Frédéric Allard
Electric Energy Magazine is published 6 times a year by:
Jaguar Expo Inc.
CP 50514 Carrefour-Pelletier
Brossard, Quebec Canada J4X 2V7
Tel.: (888) 332-3749
Fax: (888) 243-4562
E-mail:
jaguar@jaguar-media.com
Electric Energy T&D Magazine serves the fields of electric utilities, investor owned, rural and other electric cooperatives, municipal electric utilities, independent power producers, electric contractors, wholesalers and distributors of electric utility equipment, manufacturers, major power consuming industries, consulting engineers, state and federal regulatory agencies and commissions, industry associations, communication companies, oil & gas companies, universities and libraries.
«8» Industry News
«41» Suppliers Index
Companies listed alphabetically with complete addresses, phone and fax numbers, e-mail, web site and contact names.
«97» Products and Services
This section lists all the companies under the specific product or service that they supply to the industry.
«161» Category Index
Complete list of product & service categories.
«182» Product Showcase
Read about new products available to the industry.
«184» Advertisers Index
This index is a guide to locate specific display advertisers throughout the directory.
Cover:MasTec Energy Services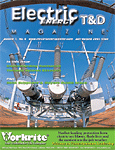 (19MB)
4
Francis Bradley, Vice-President, Corporate, Canadian Electricity Association, bradley@canelect.ca
Opinion polls, focus groups, executive interviews, mail panels, mall intercepts, customer contact evaluations, Internet surveys, and website feedback mechanisms: each of these methods will yield information about what your customers may be thinking, but they are far from equal.
14
Martin Rollins
There are now more choices than ever in distribution poles, but purchasers must be wary: simply substituting one type of pole for another based on presumed equivalency could result in a selection unfit for the load condition and out of compliance with NESC requirements.
20
Chris Harlow
It's the economy Stupid! Or is it? Everywhere you turn, some talking head tells you just how bad the economy is.
24
Kathy Hjelmeland, Philips Medical Systems
An end-of-day soda run turned three members of a Wisconsin electric utility line crew into heroes last December.
28
Mike Bourre, Vice President of Sales & Marketing, Radio IP Software Inc.
In the 1960's, when the U.S Department of Defense set a requirement for a packet-switched network nobody anticipated that it would grow into what we know today as the Internet?
32
Kevin Hutchison, Account Director, Bozell & Jacobs
Ladders are some of the most often-borrowed equipment in the garage.
34
It is said that with age comes wisdom. Such is the case with Doble Engineering Company's annual Client Conference, which celebrated its 70th consecutive year in April.
164
Tim Poor, American Superconductor
Wind energy development in the United States is expected to grow at a remarkable 25 percent in 2003, according to the American Wind Energy Association (AWEA).
168
Mike Caranfa, Director of Business Development, Datamatic Energy Systems, Datamatic, Ltd.
Utilities want data, especially about when and how much energy is being used. Traditionally, the acquisition of that data has been accomplished with expensive commercial and industrial (C&I) meters that enable satellite, Internet, cellular, RF or modem transmission of usage data back to the utility.
173
Andrew Thompson, CEO and President, TVD Inc.
In any Outage Management process one of the first challenges is to identify where the cause of the fault is located.
176
John Pointon, Director, Sales and Marketing, OmniSTAR, Inc.
The advent of GPS positioning technology has resulted in the general availability of high quality positioning technology at relatively low prices.
179
Dan Snyder, Manager Business Development, American Iron and Steel Institute
Just over a decade ago,Austin Energy — a municipally owned utility serving 364,000 customers in central Texas — turned to steel distribution poles when searching for an innovative and cost-effective solution to a tricky technical distribution problem.