Publisher
Jaguar Inc.
Editor
Gordon McCormick
Contributing Editor
Francis Bradley
Publication Manager
Steven Desrochers
Account Executive
Gordon Bennett
Sandra B.Herzberg
Joanne Mayoff
Mike Rivard
Production Assistant
Danielle Bernier
Janet Guay
Art Designer
Linda Fleury
(MIS) Management Information System
Frédéric Allard
Electric Energy Magazine is published 6 times a year by:
Jaguar Expo Inc.
CP 50514 Carrefour-Pelletier
Brossard, Quebec Canada J4X 2V7
Tel.: (888) 332-3749
Fax: (888) 243-4562
E-mail:
jaguar@jaguar-media.com
Electric Energy T&D Magazine serves the fields of electric utilities, investor owned, rural and other electric cooperatives, municipal electric utilities, independent power producers, electric contractors, wholesalers and distributors of electric utility equipment, manufacturers, major power consuming industries, consulting engineers, state and federal regulatory agencies and commissions, industry associations, communication companies, oil & gas companies, universities and libraries.
«8» Industry News
«20» Metering Equipment Showcase Section
«30» Autovation: The AMRA 2004 International Symposium
September 26-29, 2004
«57» IEEE PES Power Systems Conference and Exposition
October 10-13, 2004
«70» Product Showcase
Read about new products available to the industry.
«72» Advertisers Index
This index is a guide to locate specific display advertisers throughout the directory.
Cover:Datamatic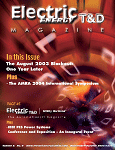 (10MB)
4
Francis Bradley, Vice-President, Canadian Electricity Association, bradley@canelect.ca
This past summer, 50 million people in Ontario and the midwest and northeast United States remembered the historical electricity blackout that left them without power.
16
Robert W. McMichael, Jr. Ph.D., Datamatic Ltd.
Due to the hard work of a group of dedicated individuals in the ANSI C12.17 working groups, a set of five standards for data communications with Commercial and Industrial metering devices have been developed.
36
Jeffrey R. Jowett Megger®
In its common form, grounding is typically thought of as no more than a rod driven into the earth in order to provide a safe diversion of lightning strokes.
40
Benton Wilcoxon, Chairman & CEO, Composite Technology Corporation
On August 14, 2003, the world was once again reminded about the importance of electricity as a blackout struck the northeast United States and eastern Canada.
50
Richard E. Brown, KEMA
IN THE PAST, the distribution aspects of electric utilities were part of vertically integrated monopolies responsible for generation, transmission, distribution, and customer service.
54
Jean Mahseredjian – HQ IREQ, Sébastien Dennetière – HQ IREQ, Omar Saad – TransÉnergie Technologies, Bahram Khodabakhchian – TransÉnergie Technologies
Combined with the powerful graphical user interface (GUI) EMTPWorks, EMTP-RV—the new restructured version of the well-known electromagnetic transient program EMTP—sets a higher level of capabilities in the simulation of large-scale electrical networks.
62
William T. Shaw, Cyber SECurity Consulting
In the aftermath of the 9/11 tragedy, and with the ever-growing threat of "cyber terrorism", a very important question has arisen concerning the vulnerability of the computer-based,
66
Greg Wolven, Director of Engineering for WIN Energy REMC
WIN Energy – based in Vincennes, Indiana – is a 16,000 member rural electric cooperative operated by 42 employees working out of three different offices and covering approximately 2,500 miles of distribution lines.