Publisher
Jaguar Inc.
Editor
Gordon McCormick
Publication Manager
Steven Desrochers
Production Assistant
Nancy Caldewood
Art Director
Linda Fleury
(MIS) Management Information System
Frédéric Allard
Production Department
Danielle Bernier
Nancy Caldewood
Advertising Sales Representatives
Joanne Mayoff
Allan Silverstone
Electric Energy Magazine is published 6 times a year by:
Jaguar Expo Inc.
CP 50514 Carrefour-Pelletier
Brossard, Quebec Canada J4X 2V7
Tel.: (888) 332-3749
Fax: (888) 243-4562
E-mail:
jaguar@jaguar-media.com
Electric Energy T&D Magazine serves the fields of electric utilities, investor owned, rural and other electric cooperatives, municipal electric utilities, independent power producers, electric contractors, wholesalers and distributors of electric utility equipment, manufacturers, major power consuming industries, consulting engineers, state and federal regulatory agencies and commissions, industry associations, communication companies, oil & gas companies, universities and libraries.
«4» Industry News
«29» DistribuTECH 2002 Show Coverage
DistribuTECH's conference and Solutions Exchange exhibition is the leading utility industry event, attracting the highest caliber industry professionals for 11 years. The Solutions Exchange exhibition features more than 260 companies on the cutting-edge of technology and innovation - representing 53 different product groups and 22 unique services. Your company cannot afford to miss this opportunity to reach so many qualified contacts in one location.
«39» GITA Show Coverage
GITA's Annual Conference and Exhibition is the premier educational event for professionals involved in geospatial information technologies such as geographic information systems (GIS), automated mapping/facilities management (AM/FM), and related geospatial information technologies.
«49» New Product Showcase
«52» Advertisers Index
Cover:Courtesy of Wolmanized (R) CCA poles.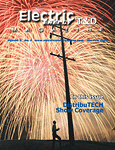 (0MB)
10
Jim Hargis, har*GIS LLC
If you are involved with field service, operations or maintenance, you have undoubtedly noticed the recent advances in field force automation systems.
18
Gerald Mimno, Strategic Alliances Director, AES-IntelliNet
Digital energy is the free flow of real-time information exchanged between energy suppliers and consumers.
28
Dave Fedirchuk, Product Manager, APT Relays & Recorders, NxtPhase Corporation Allan D. Silk, Integrated Network Performance Engineer, Manitoba Hydro Curtis Rebizant, Sales and Marketing Manager, APT Relays & Recorders, NxtPhase Corporation Victor Baerg, AC Network Studies Officer, Manitoba Hydro
System performance is an important aspect of the power utility business and is determined by how efficiently and effectively information is used and assimilated.
35
Dileep Rudran, Systems Architect, Software Product Development, Electricity Metering, ABB Inc.
In today's changing regulatory environments, utilities are beginning to see a need for business systems to collect, store, and publish meter data.
38
Michael J. Pristas, Vice President of Power Management Services for the National Rural Telecommunications Cooperative
A Distributed Intelligence Approach to SCADA technology has been in existence for several decades.
40
Terry Baskin, E2MS
Throughout North America, businesses of all types and sizes are being squeezed by rapidly climbing energy prices.
44
Ryan Provenzano, President, Caprock Manufacturing Inc.
Designing and marketing a new product for the utility industry often starts with identifying a customer need…
47
Stan Allina, Meter Treater
Protecting operational infrastructures in the 21st century requires a complete and comprehensive approach to the operating environment.