Electric Energy Magazine is published 6 times a year by:
Jaguar Expo Inc.
CP 50514 Carrefour-Pelletier
Brossard, Quebec Canada J4X 2V7
Tel.: (888) 332-3749
Fax: (888) 243-4562
E-mail:
jaguar@jaguar-media.com
Electric Energy T&D Magazine serves the fields of electric utilities, investor owned, rural and other electric cooperatives, municipal electric utilities, independent power producers, electric contractors, wholesalers and distributors of electric utility equipment, manufacturers, major power consuming industries, consulting engineers, state and federal regulatory agencies and commissions, industry associations, communication companies, oil & gas companies, universities and libraries.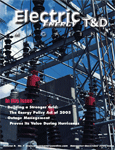 (5MB)
4
By: Francis Bradley, Vice-President, Canadian Electricity Association, bradley@canelect.ca
Ensuring a strong, sustainable and secure electricity industry is at the heart of our prosperity and economic security.
14
By Michael A. Marullo, Contributing Editor
In the nearly 35 years I've lived in the New Orleans area, I have never before evacuated for a hurricane; I really didn't intend to leave for Katrina either. However, when I woke up the Sunday morning before the storm hit, I knew that this time it would be different. Having seen the destruction caused by Hurricane Camille on the Gulf Coast in 1969, I knew better than to defy a Category-5 storm, which is what Katrina was before weakening to a Cat-4 and making landfall on August 29th.
18
By Terry Nielsen, SPL
That would have been an unthinkable nightmare just a few months ago. Today, we all know it's a reality that more than one utility faced as a result of Hurricane Katrina.
24
By: Russell Tucker, Director, Federal Regulatory Affairs, Edison Electric Institute, www.eei.org
America's electric companies welcome the Energy Policy Act of 2005 (EPAct). It is long overdue legislation. During the past four years, the industry has advocated the need for a comprehensive package of electricity reforms. Both to meet the demands of today, and to prepare for the challenges of tomorrow.
30
By: Howard V. Perlmutter, PhD., Vice Chair of the Global Interdependence Center and Professor of Social Architecture and Management Emeritus at The Wharton School, University of Pennsylvania.
Two CEOs, real stories, names deleted to protect the guilty--which are you?