Publisher
Steven Desrochers
Editor
Gordon McCormick
Contributing Editor
Mike Marullo
Account Executive
Donna Williams
Advertising Sales Manager
Jimmy Desjardins
Circulation Manager
Janet Guay
Art Designer
Anick Langlois
Internet Programmers
Johanne Labonté
Sébastien Knap
Electric Energy Magazine is published 6 times a year by:
Jaguar Expo Inc.
CP 50514 Carrefour-Pelletier
Brossard, Quebec Canada J4X 2V7
Tel.: (888) 332-3749
Fax: (888) 243-4562
E-mail:
jaguar@jaguar-media.com
Electric Energy T&D Magazine serves the fields of electric utilities, investor owned, rural and other electric cooperatives, municipal electric utilities, independent power producers, electric contractors, wholesalers and distributors of electric utility equipment, manufacturers, major power consuming industries, consulting engineers, state and federal regulatory agencies and commissions, industry associations, communication companies, oil & gas companies, universities and libraries.
CCAB/BPA WORLDWIDE MEMBERSHIP APPLIED FOR DECEMBER 2005
«24» Product Showcase
Read about new products available to the industry.
Cover:DOBLE ENGINEERING Co.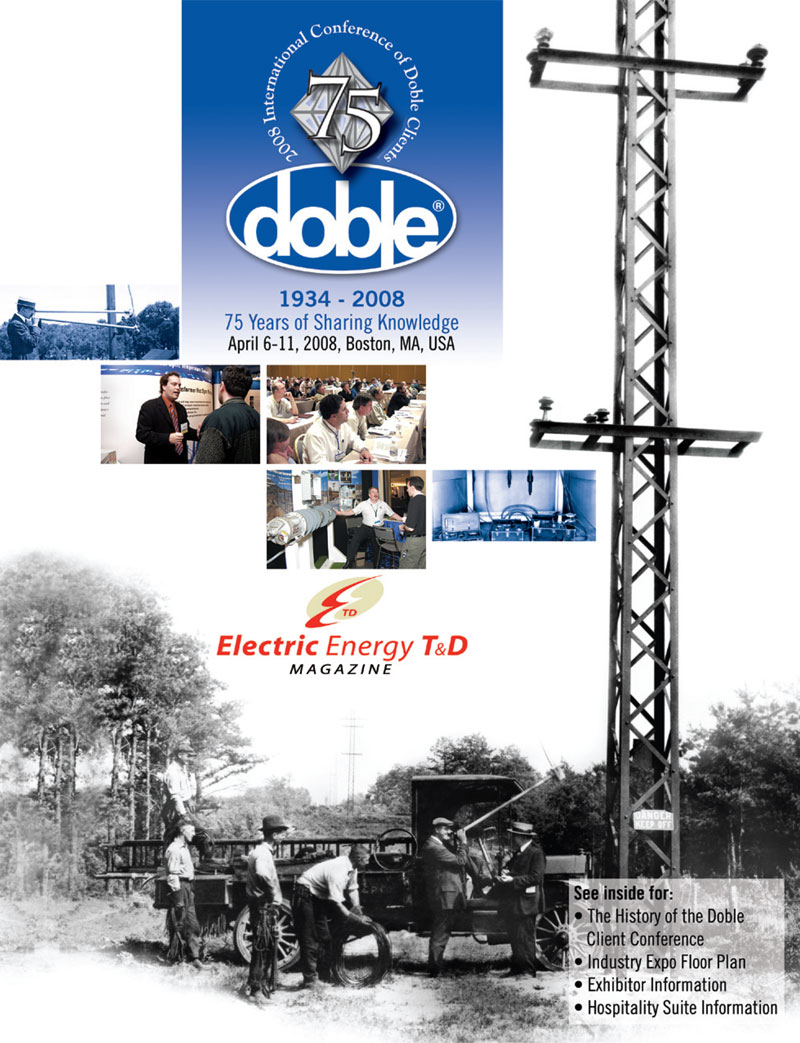 (6MB)
22
Michael A. Marullo, Contributing Editor
Whenever I make fundamental changes to a word processor document – i.e., changes that affect the basic structure; not just content changes – and get ready to quit the appplication, I sometimes get a message that says, "Do you want to replace the existing Normal?"
26
Paul Cassingham, Entergy Services, Inc. and David Allen, Nobadeer Software
In these times of increasingly stringent regulatory compliance reporting by utilities, the most rigorous of which being Sarbanes-Oxley for publicly-held corporations like Entergy, the transmission and distribution (T&D) departments requires an auditable and reliable source of historical data with no gaps.
34
Michael A. Marullo, Automation/IT Editor
In this issue, we are privileged to be able to share the thoughts and insights of two key executives from ABB's North American Power Products and Power Systems divisions.
44
Joe Weiss, PE, CISM, Applied Control Solutions, LLC
The goals of a prudent control cyber security program should be to help make the utility/entity more secure, maintain and when possible, improve system reliability and availability, and meet regulatory requirements.
50
Ruth Craven and Dr. Will Shepard, Enspiria Solutions
Geographic Information Systems (GIS) are the latest evolution of spatial technology, with their origins in simpler systems such as Computer Aided Design (CAD) and Automated Mapping/Facility Management (AM/FM) systems.
53
Craig M. Preuss, Engineering Manager-Utility Automation, Black & Veatch Corporation
Building on part 1 of this article in the previous issue, this second installment illustrates the issues and impacts of implementing substation integration in harmony with the utility's organization and operations using a standards-based approach.
64
Moshe BenBassat, CEO and founder of ClickSoftware
For decades, electric utilities have invested millions of dollars in computer technology and human resources to reliably forecast future demand.
68
William Tyler Morgan, Network Engineer II, EPB Chattanooga, TN, Jason Lee Read, Senior Engineer, EPB Chattanooga, TN and René Midence, Utility Market Manager, RuggedCom Inc.
Serial communications has been the mainstay for communication systems for more than a decade using RS232 and RS485 as the physical layer.
74
Wang Chiu, IESO, Ontario and Michele Hudnall, Managed Objects
The business case for business service management (BSM) at Ontario's Independent Electricity System Operator, commonly referred to as IESO, started out as a proposal for solving a traditional IT management problem.
79
Guillaume Perigaud, Sébastien Muller, Gaël de Bressy, Ryan Brady, Philippe Magnier, Transformer Protector Corporation
Power transformers are one of the most dangerous electrical equipments because of the large quantity of oil they contain which is in direct contact with high voltage elements.