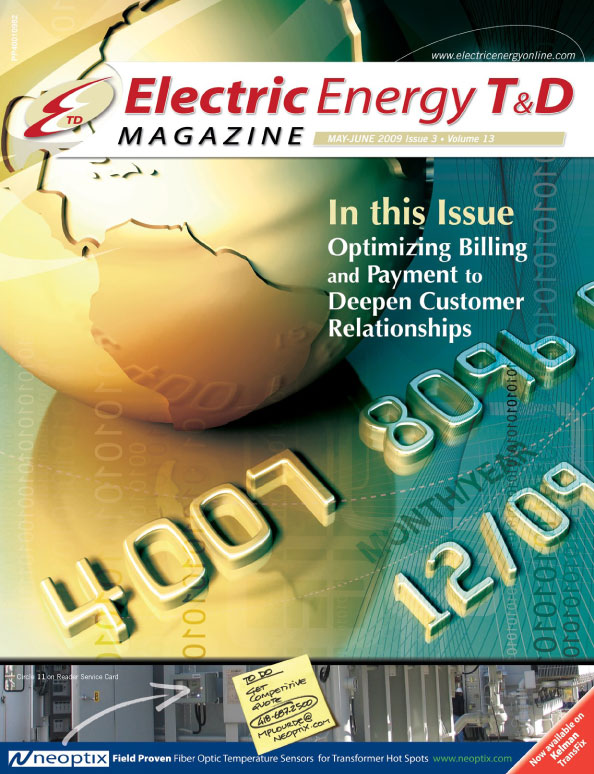 (4MB)
4
Michael A. Marullo, Editor in Chief
As most of our regular readers know, May-June is our annual Customer Service & Support issue.
16
Brad McMillan, President of Visionary Electronics Inc. and Edwin Hornquist, Project Manager, Design & Engineering Services at Southern California Edison
These systems can be used in place of the generators that are currently kept online to meet spinning reserve requirements and can also be used to smooth the intermittence of renewable energy sources.
20
Jeff Bender, CEO - Harris Computer Systems Ottawa, Ontario Canada
At first glance, the preceding statement seems reasonable enough. After all, why wouldn't you want to have your customers get the solution they want and have them involved in the decision process?
24
Michelle Flint, General Manager, Biller Solutions, Fiserv
For most customers, decisions involving payment options are almost always tied to convenience, choice and control.
27
Professional Association Spotlight Elliot Boardman, Executive Director, PLMA
Though it seems like it was only a few years ago that we first met, when I spoke to Elliott Boardman about this interview in March, he reminded me that PLMA – the Peak Load Management Alliance – is about to celebrate its tenth anniversary!
29
Keith Broad, Director - Information Technology Bluewater Power Distribution Corporation
The story of Bluewater Power Distribution Corporation closely parallels the deregulation of North America's utilities.
33
Phil Daniele, Managing Director, BearingPoint Utility Practice
Meeting the demand for electricity may be daunting, but that's not all that's haunting utilities today.
37
Dennis McCombs, IT Manager for Transmission and Distribution, and Mohan Inguva, Mapping Technology Supervisor, NV Energy
There's no doubt that the bright lights of Las Vegas make a powerful impression. The city is an exciting place, and that excitement is absolutely vital to the economy of Nevada.
40
Zhenyuan Wang, James Stoupis and Fahrudin Mekic, ABB Inc.
Traditionally, electric utilities have used their trouble call systems to detect power outages.
44
Gregory K. Lawrence, Partner, McDermott Will & Emery (Attorneys)
The Federal Energy Regulatory Commission (FERC) sets draft policy to encourage the implementation of Smart Grid technologies, which it expects will greatly increase system reliability and efficiency and at the same time lower the cost of electricity for consumers.