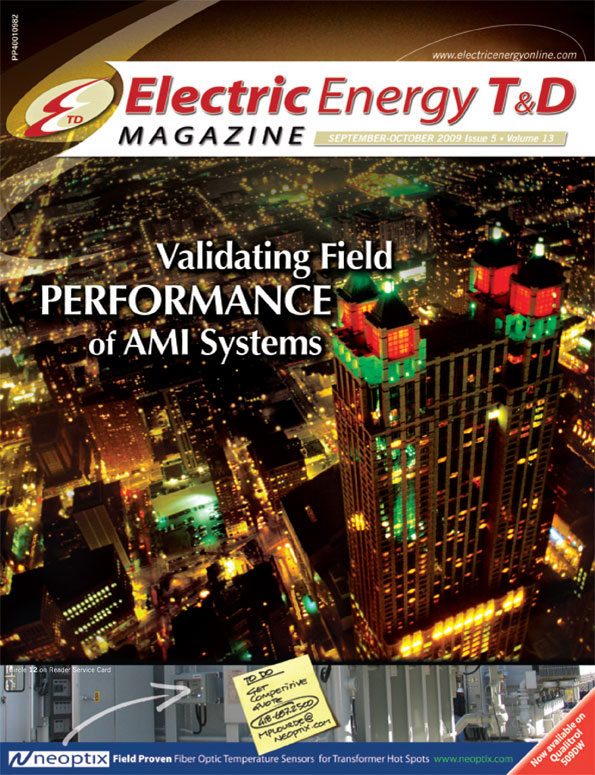 (5MB)
4
Michael A. Marullo, Editor in Chief
There is so much being said and written about Smart Grid lately that I just have to get a couple of things off my chest.
12
Brad Davids, Vice President of Utility Solutions, EnerNOC, Inc.
Demand Response (DR) is the deliberate reduction in electric consumption by energy users in response to system needs, such as periods of peak demand, high wholesale market prices, or system emergencies.
21
Stephen Johnston, Chief Executive Officer and Dr. Henry Jones, Chief Technology Officer
… the smart grid infrastructure that we're talking about is much more lasting in its impact. It is the development of a new infrastructure that will permit new forms of commerce to take place.
30
Gareth Thompson, Senior Project Engineer, Enspiria Solutions, Inc.
Accurately assessing the performance of Advanced Metering Infrastructure (AMI) and Meter Data Management Systems (MDMS), during a field acceptance test (FAT) and during mass deployment, is a critical need for today's Smart Grid projects.
35
Arthur (Bud) Vos, Chief Technology Officer, Vice President of Strategy for Comverge
Meeting demand for electricity is just one of the issues facing utilities today. Utilities are pushing to transform as momentum continues toward Smart Grid…
38
Joel Hoiland, Utilimetrics, CEO
With a growing industry interest in the adoption of Smart Grid technologies, utility providers are now seeing a subsequent increase in the demand for more personalized customer communications.
40
Eric Miller, Senior VP–Solutions, Trilliant Incorporated
Twenty years elapsed between the creation of the Internet in 1969 and the 1989 invention of the World Wide Web by Tim Berners-Lee. It took another four years until the introduction of Mosaic 1.0, the first commercial Web browser, and a few more years before the term "Web" became a household word.
44
Lynn Adams, Vice President, R. W. Beck
Driven by customer demands, legislative mandates and macro-level market trends, utilities are expanding beyond initial efforts to "go green" to include comprehensive, analytically based enterprise-wide sustainability plans.
48
William T. (Tim) Shaw, PhD, CISSP
Security is a seemingly simple word with an equally simple dictionary definition: "safety", "freedom from worry" and "protection."
50
Skip Ashton, Sr. VP of Engineering (Ember Corporation)
The Smart Grid loses immense value unless there are smart homes to plug into it.