Publisher
Steven Desrochers
Editor in Chief
Mike Marullo
Contributing Editors
William T. (Tim) Shaw, PhD, CISSP
Gregory K. LawrencePartner; Cadwalader, Wickersham & Taft LLP
Account Executive
Eva Nemeth
Art Designer
Anick Langlois
Internet Programmers
Johanne Labonté
Sébastien Knap
Electric Energy Magazine is published 6 times a year by:
Jaguar Expo Inc.
CP 50514 Carrefour-Pelletier
Brossard, Quebec Canada J4X 2V7
Tel.: (888) 332-3749
Fax: (888) 243-4562
E-mail:
jaguar@jaguar-media.com
Electric Energy T&D Magazine serves the fields of electric utilities, investor owned, rural and other electric cooperatives, municipal electric utilities, independent power producers, electric contractors, wholesalers and distributors of electric utility equipment, manufacturers, major power consuming industries, consulting engineers, state and federal regulatory agencies and commissions, industry associations, communication companies, oil & gas companies, universities and libraries.
«6» Industry News
«116» Advertisers Index
Cover:Istock Photo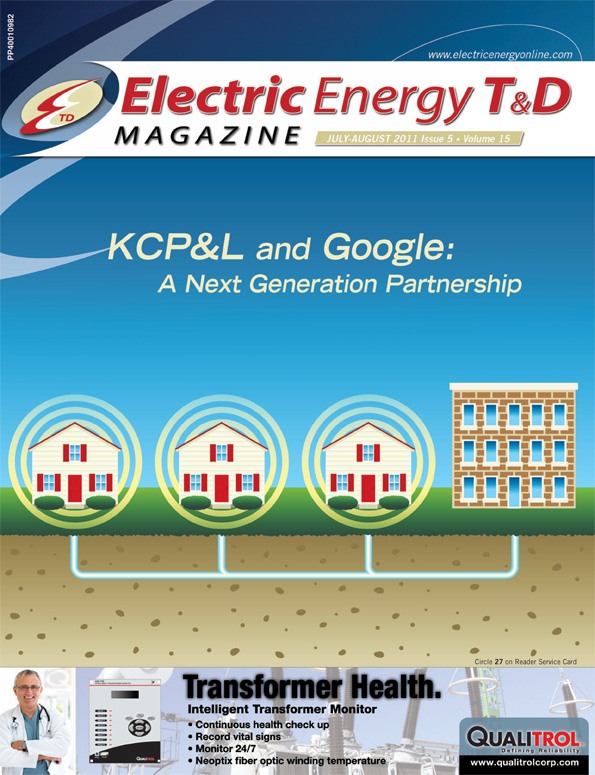 (11MB)
4
Michael A. Marullo, Editor in Chief
16
Steven Gilkey, Senior Director T&D Engineering & Planning, and William Menge, Smart Grid Director; Kansas City Power & Light
Many of us in the utility industry are forward thinkers. Providing a service that is expected to be instantly available through a system, which must last for decades requires some forward thinking.
24
Denis Chartrand, Chief- Distribution Network Strategies, Hydro-Québec Distribution; and Matt Wakefield, Sr. Program Manager-Smart Grid, EPRI
In North America, there are big utilities, and there are really big utilities… and then there's Hydro-Québec – the biggest of all as measured by several of the various yardsticks commonly used for such purposes.
34
Cindy Carroll, Director-Business Development and Justin Eisfeller, Director-Energy Measurement & Control, Unitil
According to recent reports by the International Energy Agency and United States Energy Infor-mation Administration, global energy demand is expected to increase approximately 36 percent and U.S. demand is anticipated to grow more than 30 percent by the year 2035.
39
Bernadette Corpuz, Senior Associate-Electricity Markets Group; Borden Ladner Gervais LLP
Today, most nations of the world have an energy policy of some sort. Reliability and security of supply are typically overarching objectives, even in the most developed and richest of economies.
43
Neil Weisenfeld, Department Manager-Distribution Cable Systems, ConEd (NY); and Doug Dorr, Senior Project Manager, Electric Power Research Institute (EPRI)
When underground electrical cables age and deteriorate, the corresponding arcing associated with the pre-failure of the cable can be both a hazard and an impending alarm.
47
William T. (Tim) Shaw, PhD, CISSP
Welcome to the latest installment of Security Sessions, a regular feature focused on security-related issues, policies and procedures.
50
Clay Tutaj, Senior Consultant; KEMA Inc.
For many utilities, distribution system vegetation management (VM) programs represent both a substantial portion of annual maintenance spending as well as a major point of contention with customers over the aesthetic impacts resulting from VM.