Publisher
Steven Desrochers
Editor in Chief
Mike Marullo
Contributing Editors
William T. (Tim) Shaw, PhD, CISSP
Gregory K. LawrencePartner; Cadwalader, Wickersham & Taft LLP
Account Executive
Eva Nemeth
John Baker
Art Designer
Anick Langlois
Internet Programmers
Johanne Labonté
Sébastien Knap
Electric Energy Magazine is published 6 times a year by:
Jaguar Expo Inc.
CP 50514 Carrefour-Pelletier
Brossard, Quebec Canada J4X 2V7
Tel.: (888) 332-3749
Fax: (888) 243-4562
E-mail:
jaguar@jaguar-media.com
Electric Energy T&D Magazine serves the fields of electric utilities, investor owned, rural and other electric cooperatives, municipal electric utilities, independent power producers, electric contractors, wholesalers and distributors of electric utility equipment, manufacturers, major power consuming industries, consulting engineers, state and federal regulatory agencies and commissions, industry associations, communication companies, oil & gas companies, universities and libraries.
«6» Industry News
«34» Advertisers Index
Cover:Istock Photo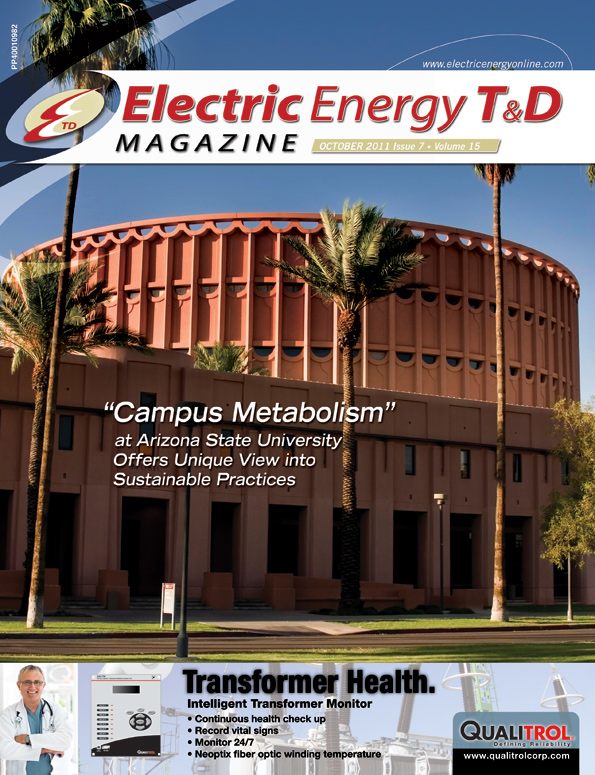 (4MB)
4
Michael A. Marullo, Editor in Chief
This isn't a political forum, and I don't intend to turn this column into a political rant, but there are some things that need to be said… and I'm going to say them. It is my hope and intention that by airing these opinions, you will take note that we have some bitter pills to swallow and that making those pills even more bitter than they already are merely exacerbates the problems we're currently facing.
12
Robert W. Vandling, Technology Support Analyst/Coordinator, Arizona State University
The interactive Campus Metabolism ("CM") website at Arizona State University (ASU) offers a unique inside view into the university's commitment to sustainability initiatives, including its focus on the value of alternative energy resources and conservation.
16
Rick Gonzales, Chief Operating Officer and Rana Mukerji, Senior VP – Market Structures
The New York Independent System Operator (NYISO) administers the wholesale electricity market for New York State. Its primary role is running a day-ahead and a real-time market for electricity, which in turn, provides generators with a financially binding schedule of operation.
21
Dara O'Neill, CEO, Efficient Energy America and Jim Vonderhaar, VP & General Manager, Regional Operations, Summit Energy Services
It's no secret that energy costs are on the rise, which inevitably translates to higher electric bills for businesses. With no end in sight, it's hardly a surprise that energy efficiency programs are continually gaining more widespread attention and support from both businesses and utility providers.
24
Tom Crawford, Senior Manager, Capgemini Global Smart Energy Services
Rooftops across Ontario are being transformed. An aerial view of the province reveals that solar panels cover the flat rooftops of hundreds of commercial and industrial buildings.
27
Gregory K. Lawrence, Partner, Cadwalader, Wickersham & Taft LLP
The Federal cash grant program for renewable projects expires at year's end. Adding to this perceived financing gap, conventional wisdom describes a perceived dearth of "traditional" tax equity investors for these projects.
29
William T. (Tim) Shaw, PhD, CISSP
Welcome to this installment of Security Sessions, a regular feature focused on security-related issues, policies and procedures. Computer-based industrial automation systems, including both SCADA and DCS varieties, entered the market in the 1970s and there have been several subsequent evolutionary step-changes in the technology base since.
32
Patty Durand, Smart Grid Consumer Collaborative
"The Internet of Things (IoT) refers to the vision that in the next twenty years, a revolution in device-to-device communication will take place that will be comparable to the revolution in person-to-person communication that erupted in the last two decades with the Internet and World Wide Web.