Electric Energy Magazine is published 6 times a year by:
Jaguar Expo Inc.
CP 50514 Carrefour-Pelletier
Brossard, Quebec Canada J4X 2V7
Tel.: (888) 332-3749
Fax: (888) 243-4562
E-mail:
jaguar@jaguar-media.com
Electric Energy T&D Magazine serves the fields of electric utilities, investor owned, rural and other electric cooperatives, municipal electric utilities, independent power producers, electric contractors, wholesalers and distributors of electric utility equipment, manufacturers, major power consuming industries, consulting engineers, state and federal regulatory agencies and commissions, industry associations, communication companies, oil & gas companies, universities and libraries.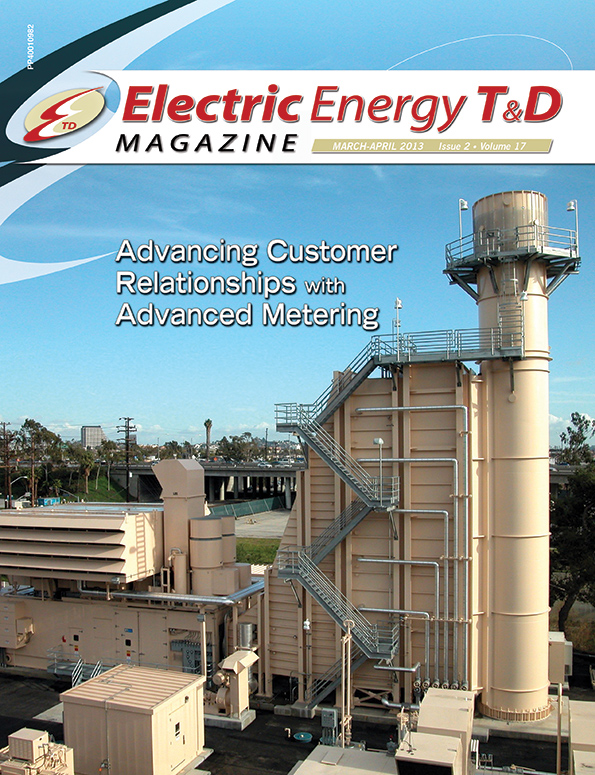 (7MB)
4
Terry Wildman, Editor-in-Chief
I have recently returned from DistribuTECH 2013 in San Diego and I have to say, the depth and breadth of the intellect and levels of achievement on that show floor were absolutely electric.
14
Rob Pilgrim, VP Business Development, ABB Tropos Wireless Communication Systems
We are speaking with Rob Pilgrim, VP Business Development at ABB Tropos Wireless Communication Systems
20
Dave Bovankovich, VP Engineering
Since their introduction to the market in the 1980s, submeters have dramatically evolved in terms of functionality and usefulness, and have proven themselves valuable 'front-line' energy data gathering tools in an era of rising utility costs and tightening budgets.
25
Terry McDonald, PMP – Executive Consultant, DNV KEMA
The 2009 American Recovery and Reinvestment Act (ARRA) issued a broad range of grants totaling $787 billion. The money was to save and create jobs, and increase investments in infrastructure, including smart grids and 'green' energy.
29
Ben McKelway, Norris & Company
Few if any hospitals have a better power system than the James A. Haley Veterans' Hospital in Tampa, Florida, thanks to its recently renovated power plant.
33
Jason Taylor, Senior Project Engineer/Scientist, EPRI
Part I (Electric Energy T&D January/February 2013) looked at R&D challenges, exploratory workshop purpose, reliability assessment concerns and gaps, and reliability and performance indices.
36
Maura Goldstein, Baker Botts L.L.P
As explored in Part I of this Article (Electric Energy T&D January/February Issue 1 - Volume 17), over the past two years, the United States Army ("Army") has established a dedicated Energy Initiatives Office Task Force ("EITF"), and kicked off a novel procurement program (the "Army Renewables RFP") for a proposed $7 billion in power purchase agreements intended to stimulate private investment in the build-out of greenfield renewable power projects at Army bases across the continental U.S.
39
William T. (Tim) Shaw, PhD, CISSP / CIEH / CPT
As I reviewed the recent Presidential directive on cyber security I was pondering the evolving cyber threats to our national infrastructure and institutions from both domestic and international sources.
41
Scott Coe and Shangyou Hao, Utility Integration Solutions, Inc. (UISOL)
The term 'Smart Grid' has been used over the past decade to include a number of disparate ideas related to making the electricity grid more reliable, more economic, or more environmentally friendly.