Electric Energy Magazine is published 6 times a year by:
Jaguar Expo Inc.
CP 50514 Carrefour-Pelletier
Brossard, Quebec Canada J4X 2V7
Tel.: (888) 332-3749
Fax: (888) 243-4562
E-mail:
jaguar@jaguar-media.com
Electric Energy T&D Magazine serves the fields of electric utilities, investor owned, rural and other electric cooperatives, municipal electric utilities, independent power producers, electric contractors, wholesalers and distributors of electric utility equipment, manufacturers, major power consuming industries, consulting engineers, state and federal regulatory agencies and commissions, industry associations, communication companies, oil & gas companies, universities and libraries.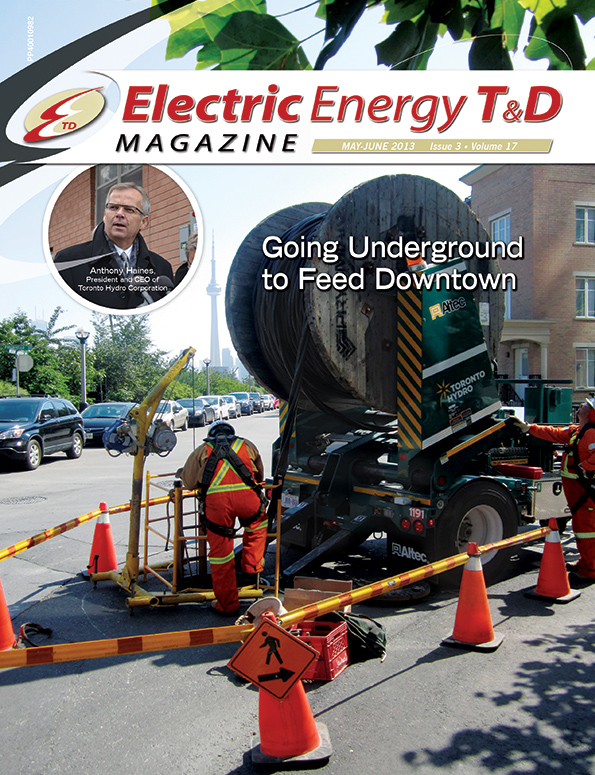 (8MB)
4
Terry Wildman, Editor-in-Chief
16
Anthony Haines, President & CEO, Toronto Hydro Corporation
We are speaking with Anthony Haines, President and CEO of Toronto Hydro Corporation
19
Lino Picheo, President, Staer Sistemi
A rapidly increasing availability of energy at reasonable prices is one of the key issues for the development and interest in renewable energy.
24
Jon Bickel, PE
There are over 6.2 million miles (10 million kilometres) of three-phase and single-phase distribution circuits in the United States and metering data provides utilities with the only 'real-time eyes and ears' into the performance of their systems.
31
Danny Petrecca, Schneider Electric, Director of Product Management, Enterprise GIS
When a utility is faced with a natural disaster, tools such as an outage management system and distribution management system are traditionally leveraged to get service back up as quickly as possible.
34
Jason Wilson, SVP Business Development and Product Management, On-Ramp Wireless
The U.S. Department of Energy (DOE) has a lofty goal of reducing customer outage time or Systems Average Interruption Duration Index (SAIDI) by 20 percent by 2020.
38
Jason Cigarran, Vice President, Corporate Marketing and Communications
Over the last 30 years, we have seen a historic rise in the demand for energy. In fact, since 1982, our nation's increased demand for electricity has outpaced the grid's transmission capacity by 25 percent annually.
40
Bernadette Corpuz, Borden Ladner Gervais LLP
Approximately one year ago, the Ontario Government announced its plans to conduct a comprehensive review of the Province's electricity sector.
42
Eric Byres, Tofino Security at Belden Inc.
An recent years the number of cyberattacks directed at energy installations, including power utilities has increased dramatically. I discussed this in my article 'Securing Utilities from Cyberattacks - For the times they are a-changin' in the November/December 2012 issue of this magazine.
45
Max Park and Scott Zajkowski
The need to move to the smart grid is clear. Its value to utilities is predicted to reach US$130 billion annually by 2019.