Building a Foundation to Move Your Utility Grid Modernization Strategy Forward
by Jennifer Ahearn
---
Grid Modernization encompasses a vast variety of different functionalities, capabilities and technologies, which can seem overwhelmingly complex for a utility embarking on a Grid Modernization journey. For the purposes of context, let's start with a common understanding of what Grid Modernization means in this discussion. While almost every project impacting the grid could be considered a modernization, in this article I am referring to the proper noun, Grid Modernization. This embodies changes to legacy distribution systems as well as the deployment of new technologies (e.g., distribution management systems, high speed communications, advanced sensors, energy storage) to provide the functionality and capability needed to support new distributed energy resources (DER) and more customer-centric interactive marketplaces that will enable a cleaner, smarter energy future.
Many utilities in the US have been embracing core Grid Modernization goals for years: cleaner, safer, and more reliable energy service. Innovative utilities, even those without significant regulatory pressure, recognize the importance of further future preparation. Faced with increasing penetration of distributed energy resources and increased stakeholder engagement, utilities are feeling the pressure to develop a strategy that prepares them for this transition and enables pursuit of the right opportunities for new operational and business strategies. They are now pursuing emerging opportunities to better engage customers, utilize DER, and deliver innovative energy products through new markets. But if these new Grid Modernization goals aren't already a part of a utility's corporate strategy, where do they start?
For the past three years, we have been working with utilities in several states on Grid Modernization strategy and technology implementation. The following explores a representative approach, the "Line of Sight" methodology, which utilities have found incredibly beneficial in establishing clear links between desired outcomes, core functionality, and foundational technology.
Creating a Line of Sight
Today's utilities are improving operational performance through continued investments. However, to ensure alignment with long-term needs, these investments must also be viewed with a perspective towards future strategic goals around Grid Modernization. The modern grid will rely on a full suite of technologies that improve operational performance, enable integrated planning, and support a higher degree of customer engagement. At the same time, the complexity of the business and regulatory landscape will require a higher degree of strategic planning and risk management.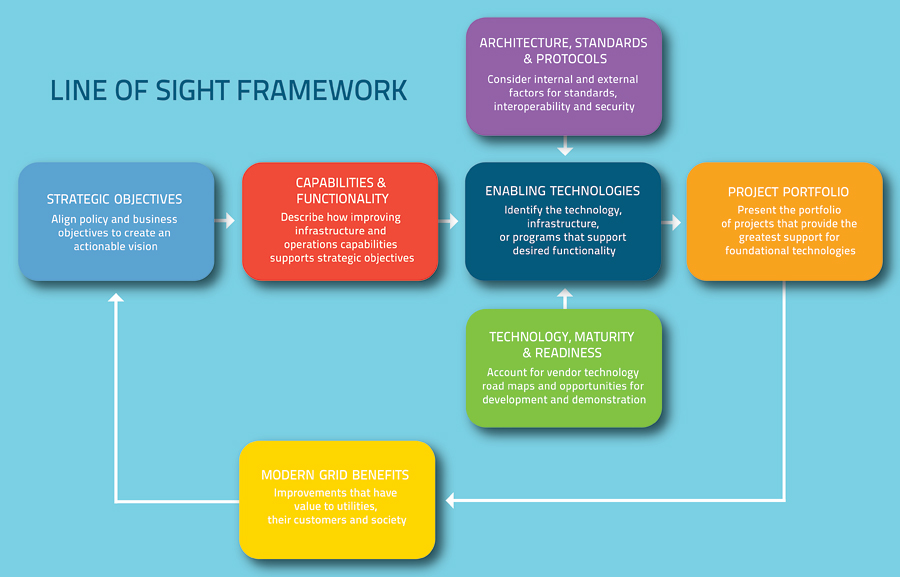 Source: BRIDGE Energy Group
(click to enlarge)

The Line of Sight methodology helps utilities and regulators establish a framework for developing, evaluating and communicating Grid Modernization technology portfolios. The framework is designed to create links between strategic objectives identified by utilities and policy makers and specific technology implementation projects. Adhering to this methodology can help utilities evaluate numerous technologies and systems available within the context of future goals as well as identifying key interdependencies between program initiatives, technologies, and business processes.
Strategic Objectives
An effective Grid Modernization program starts with identifying the high-level goals and objectives that will define the program's success. In some states, there are already well-defined policy goals that can be used as foundational principles to begin building a successful program. For example, California, New York and Massachusetts are leading the country with statewide initiatives such as New York's, Reforming the Energy Vision (NY REV). These initiatives are motivating utilities to become more customer-centric through data and knowledge sharing, 3rd party engagement and market enablement as well as the development of innovative energy products and services. By aligning corporate objectives with key foundational principles, utilities have clearly defined objectives to begin shaping their Grid Modernization plans.
In environments where Grid Modernization policy is in its earliest stages, utilities may have an opportunity to help shape policy proactively. By taking their corporate strategic objectives and applying a Grid Modernization lens, utilities can begin to make foundational investments in their infrastructure and technology that will benefit the customer -- while proactively engaging the other parties. For example, while the complexities of a dynamic energy marketplace continue to emerge, the simpler principle behind that marketplace is the enablement of more informed customer knowledge and choice. Not only is this idea more tangible, but also it is likely already aligned with a utility's corporate vision and mission. Having clearly defined strategic objectives are not only beneficial for the creation of an actionable vision, but allow for simpler and more effective communication when articulating the plan to stakeholders.
Capabilities, Functionality and Enabling Technologies
Once objectives have been established, utilities can then begin the task of applying a methodical approach to break down specific capabilities and functionalities required to achieve objectives. Clearly defined capabilities and functionalities are critical to determine which technologies will have the most efficient and effective impact on current and future operations.
In the case of enabling customer knowledge and choice, a utility may decide that to meet that objective it will require more granular energy usage data, the ability to analyze that data to develop compelling products and services, and a means to provide those options to the customer. While there can be multiple technology solutions that meet an array of requirements, mapping a technology decision back to specific capability, functionality, and strategic objective will enable leaders to secure buy-in from all stakeholders when considering infrastructure and operational investments.
Project Portfolio
Today's technology deployment plans for Grid Modernization are typically defined for five to ten years. Communications systems, smart metering, and distribution automation can take several years to deploy. Moreover, interdependencies between different systems can require a high degree of planning and coordination. Not every utility may be positioned to take on such a large-scale implementation all at once. However, developing even just a single objective using the Line of Sight methodology provides an opportunity for that objective to be baked into existing operations or business initiatives. At a minimum, this will not only benefit the customer and the grid, but also give credence to a utility's future Grid Modernization proceedings when the time comes for action.
In addition, the cost of Grid Modernization plans can run into the billions of dollars, requiring careful choices about what to implement and when. Objectives, capabilities, functionalities and technologies can be woven together to develop a portfolio of projects, which become the bones of a well-thought out, integrated Grid Modernization plan. A portfolio approach enables utilities and regulators to evaluate the costs, benefits, and business cases of different scenarios and program options.
Modern Grid Benefits
Benefits realization is critical to the long-term success of Grid Modernization. In the past, most technology investments were carefully analyzed before deployment, but not after. Establishing a clear program for quantifying pre-and post-implementation performance metrics and benefits helps ensure that outcomes align with objectives. In the case of evaluating customer empowerment goals, utilities should look to program adoption and participation rates of new offerings and services, even looking outside of the industry to create benchmarks for those evaluations. The utility should also consider what qualitative benefits customer empowerment has on the smarter, cleaner future vision of the utility, and the societal benefits that come with it.
Taking Action
Given its fluid and evolving nature, Grid Modernization is not a pursuit that can be addressed in one fell swoop, nor should it be. While the Grid Modernization influence is moving into different areas of the country at different rates, all utilities have an opportunity to take action and be a proactive party in moving the future vision of the utility forward. By using a methodical, rigorous process to facilitate a logical, pragmatic approach, utilities large and small can develop right-sized initiatives that benefit their customers, their regulators and their business.

About the Author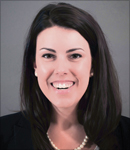 Jennifer Ahearn is an Associate Consultant at BRIDGE Energy Group. She has worked on multiple Grid Modernization efforts. Most recently, Jennifer has worked with a leading utility in New York to support the visioning of the Distributed System Platform and required foundational technology to execute their overarching grid modernization strategy and ensure alignment with both state legislation and the utility's strategic business goals.

---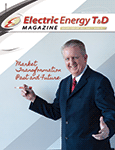 Article published part of the January/February 2017 Issue