Protecting Workers, Saving Lives:
OSHA Apparel Standard 1994 to Today
by Hugh Hoagland Consultant, ArcWear.com & Victoria Reed, University of Southern Indiana, and ArcStore.com
---
Table 1 is a quick overview of how the market has evolved since 1994. Almost every garment category has seen major changes in the past ten years. I've also included some major equipment innovations designed to protect workers which have come as a direct result of the arc clothing market.
Table 1
1994
2004
Popular Rainwear

FR Polyurethane on Nylon

Various Suppliers

Material melted and would continue to burn in arc conditions
Popular Rainwear

NASCO ArcLite and others

PVC on Nomex Kevlar

Material self extinguishes in arc conditions and has high breakopen resistance and good protection value. Offered in several styles and manufacturers and weights.

ASTM F1891 applies to rainwear.
Popular Shirting

8.5-10 oz cotton shirts
Popular Shirting

7 oz. Indura UltraSoft

4.5 oz Nomex-Lenzing Blends

5.5 oz Indura UltraSoft

ASTM F1506 applies to clothing.
Popular Trouser

11-15 oz 100% cotton jean

6 oz Nomex Pant

9 oz Indura Pant
Popular Trouser

11-15 oz 100% cotton jean

12-14 oz. 100% FR Cotton Jean

6 oz Nomex Pant

9 oz Indura Pant

9 oz Indura UltraSoft Pant

14-15 oz New Offerings Indura UltraSoft

88/12 FR Cotton/Nylon Jeans

ASTM F1506 applies to clothing.
Popular Winter wear

100% cotton shell jackets with polyester batting and nylon liner
Popular Winter wear

Nomex and UltraSoft Shell jackets with Modacrylic linings or Nomex batting linings.

ASTM F1506 applies to Winter wear.
Popular Flash/Switching Suits

100% cotton jackets or the Steelgrip 16 oz Green Nomex "pickle suit" with hood and clear faceshield.

Popular Flash/Switching Suits

ASTM F1506 and ASTM F2178 are two standards which now apply to Flash Suits.

Steelgrip, NSA, Salisbury, Oberon, Stanco, Chicago Protective, Spedmill, and others offer 10-30 oz/yd suits for 25-110 cal/cm2 Arc Rating.

Fall Protection

None had been tested by manufacturers.

Duke Power and LG&E Energy had tested some by Bashlin and Buckingham.

Fall Protection

NEW ASTM F887-2004 standard offers a 40 cal/cm2 arc test built into your specification. Bashlin and Buckingham have harnesses which meet this standard. Miller, MSA, DBI-Sali, Klein Tools, French Creek are planning harnesses to meet this standard.

Popular Clothing Programs

Most utilities had none. Some offered non-FR shirts and non-FR outerwear.

Almost no utility had FR clothing on the average line worker.

Popular Clothing Programs

Now most utilities have one. Most offer FR items and replace them as needed. Many offer allowance programs with a $500-1500 start up and $300-700 per year to maintain the clothing.

Some offer uniform programs which include cleaning and repair

Hazard Assessment

Few if any engineers understood Arc Flash Hazard Analysis

Hazard Assessment

ArcPro (from Kinectrics) led the way in Arc Flash Hazard analysis and now IEEE Standard 1584 has codified and broadened calculations from the NFPA 70E Standard and seeks to standardize Arc Flash Hazard Analysis methods.

Switchgear

Switchgear was one of the commonly recognized hazards at this time

Switchgear

New Arc Flash Resistant Switchgear is making engineering out the hazard a potential reality in one of the most hazardous and common arc exposures.

Square D www.squared.com

S&C Electric www.sandc.com

GS Online www.gs.on.ca

Network Hazards

Network Hazards were the worst hazard with little hope of engineering out the hazard.

Network Hazards

New work by ConEd on Arc Flash Blankets and a new ASTM taskforce on development of a standard for testing and development of the blankets is making great headway in developing ways to increase worker protection in the uninterruptible networks in most large cities.

Thermequip, Salisbury, Oberon, BarrDay, Burlington Safety

PPE

Innovative PPE for Arc Flash was almost non-existent since there was little recognition of the hazard.

PPE

Innovative devices such as GaryGuard which is an arc resistant polycarbonate shield which attaches to a hotstick, can shunt up to 50% or more of the arc energy away from a worker in hotstick applications.

Gloves

Gloves were just assumed to be needed though there had been ignitions. No studies had been done.

Gloves

Today a full glove ignitability study has been conducted on Salisbury (www.whsalisbury.com) gloves and these results are available at www.arcwear.com/gloves.pdf

Black gloves more than double the protection of any other color. New studies are in the works to make gloves even more arc resistant with composites.
There is no such thing as perfect protection from flame and electric arc hazards but the advances in arc and flame resistant clothing have come a long way to reduce the severity of even the worst accidents and preventing many injuries. However, as a result of OSHA rule 1910.269 (1)(6)(iii), "The Apparel Standard", promulgated in 1994, many lives have been saved and horrendous burns avoided.
Prior to 1994, most utilities recognized the risk faced by workers wearing easily ignitable or melting fabrics when exposed to electric arc hazards. Many instituted a 100% natural fiber requirement for workers but enforcement was sporadic and workers didn't understand the melting and ignition risk associated with cotton blends and synthetics.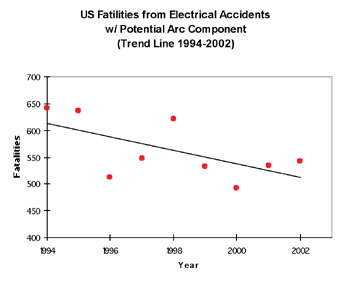 In 1994, over 600 workers a year were dying from electrical accidents which often include an arc component. The trend since the implementation of the OSHA "Apparel Standard" 29 CFR 1910.269 (l)(6)(iii) and the resulting increase in electrical workers wearing flame resistant clothing has played a great part in reducing those fatalities. A more difficult issue to measure is that workers are also being less severely burned in electrical accidents as a result of the protection afforded by arc resistant clothing. An accident I investigated last year is an excellent example. The worker's shirt came in contact with a high voltage line and the electricity conducted through the sweat in his shirt. This worker received second and third degree burns under his arm. But, because the shirt was arc resistant, it did not continue to burn and the burn was limited to the area directly exposed to the arc. Had this worker been wearing a 100% non-FR cotton shirt he would have likely received 45% body burns from the ignited shirt. His burns were less than 10% of the body and he returned to work in less than 6 months.
The apparel standard launched the move toward flame resistant (FR) clothing among electric utilities in the US, and has had a much more profound impact than any of us anticipated at time. In 1995, I was working for Louisville Gas and Electric and spent a few hours a month on the apparel standard, which was initially focused on the ignitability of cotton and polyester/cotton shirts and trousers. As my study branched out to winter wear and rainwear, I began collaborating on inventions with manufacturers such as NASCO for the first PVC coated Nomex and Nomex-Kevlar blend to be used in FR rainwear, and I patented the first arc resistant face shield with Paulson Manufacturing.
This new market potential was and is tremendous. Now I, along with many other professionals, spend 100% of my time testing, consulting and training in the area of electrical arc hazard clothing protection. Some more recent innovations include better thermal insulation in arc resistant garments; lighter, tougher rainwear; a NEW dielectric AND arc resistant fall protection harnesses [Webb-Rite Safety 225-930-9045 and BioPlastics www.bioplastics.us]; and arc hood cooling, air circulating innovations [Steelgrip www.steelgripinc.com and NSA www.nsamfg.com].
In 1994 the availability of FR Clothing (FRC) was limited to two primary competitors with one primary choice each: Indura FR cotton from Westex and Nomex IIIA from DuPont. These materials are still popular due to their price per wearing, comfort and widespread availability. Today the leading shirt and pant materials in the electrical arc resistant clothing market are the FR cotton-high tenacity nylon blend fabrics such as Indura UltraSoft; and aramid fabrics which includes Nomex IIIA and Nomex-Lenzing Blends (such as Comfort Blend, Nomex AP and others); and Tufweld which is commonly used as a shell for flash suits. Other players such as FR cotton nylon blends like Banwear and Johnston Textiles, and spent carbon materials like Carbtex and CarbonX are finding niches in the FR clothing and flash suit market.
Arc resistant rainwear materials like PVC on Kevlar-Nomex, and PVC on Nomex are accepted standards in the industry with most electric utilities in one of these types of materials.
Arc Resistant raingear has come a long way with leaders like NASCO (www.nascoinc.com), Neese (www.neeseind.com), and a few others offering arc resistant rainwear materials to utilities. NASCO's popular ArcLite ProSeries is the first utility product to become a standard in non-melting arc resistant rainwear. PVC on Nomex-Kevlar is so effective in the arc that many utilities use it with an archood as their flash suit.
Arc resistant winter wear, which represents those critical outer and innermost layers of protection, is still coming along with more companies switching to the arc resistant winter wear offered by the big players like Workrite, Bulwark and Carhartt. The new UltraSoft Duck winter jackets and parkas are similar in design, comfort and warmth to their non-FR alternative but they are light-years ahead in their arc protective ability. Accidents involving ignition of winter wear and lining materials are forcing more companies to move to upgrade to arc resistant winter wear.
Companies offering arc resistant winter wear include Ago Industries, Midwest Garment Apparel and Securitex in Canada and Bulwark, Carhartt, NSA, Steelgrip and Workrite in the USA.
Concerning arc resistance and undergarments, the only advice you would receive in 1994 was to wear cotton. Now cotton, wool and silk are recommended and after several accidents including melting bras on female workers, ArcStore.com has developed the ArcBra, ArcPanty and ArcBrief which offer non-melting, FR and arc resistant garments complete with arc ratings in popular designs.
Another concern in arc resistant clothing has been the use of disposables in transformer oil clean-up and oily potential arc and gas environments. New arc resistant disposables are now available including Bulwark's Extend FR which is a lightweight FR Sontara and SoftGuard DTP for applications which want more arc resistance. SoftGuard DTP has an arc rating of 14 cal/cm2 for a 6 oz disposable product and is available from Lakeland (www.lakeland.com). For FR applications which need chemical resistance with arc and flame resistance there is CRFR also from Lakeland.
Fall Protection has been a stickler ever since the OSHA standard prohibited nylon and polyester from use in apparel on electric utility workers but now the NEW ASTM F887 Fall Protection Standard offers arc tested harnesses which have been tested to 40 cal/cm2 without ignition and still able to perform the drop test. This standard can assure utilities that fall protection will still work after most arc flashes at dangerous heights or to retrieve workers in manholes.
The NEW NFPA 70E-2004 takes another step by taking arc resistant clothing from the utilities to all electricians with an easy to use table format for specific jobs outlining the proper PPE for workers. This standard has been a leader since the 2000 version, which introduced FR clothing to general industry and the job table for ease of compliance.
Before the OSHA Apparel Standard in 1994, some US and Canadian utilities had used FR clothing in specific applications but the apparel standard was the first legislation on the subject in the world and it fostered a growing market of better PPE options. Today interestingly enough, Peru is the only country which has adopted FR clothing for all line workers as a matter of law, but the OSHA standard has effectively moved more and more North American utilities toward mandating that arc and flame resistant apparel be worn by utility workers. This standard has been a great help in protecting workers and saving lives.
ABOUT THE AUTHORS
Hugh Hoagland, Consultant, ArcWear.com hugh@arcwear.com Victoria Reed, University of Southern Indiana and ArcStore.com victoria@arcstore.com
---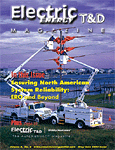 Article published part of the May/June 2004 Issue